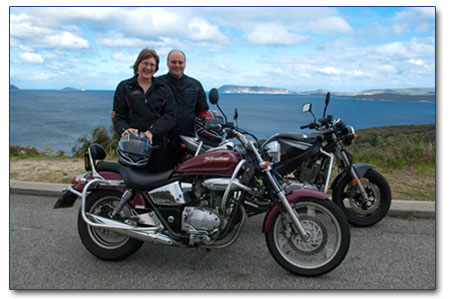 Have you ever wanted to learn to ride a motorbike or scooter? Ever thought that riding a motorcycle would be too hard or expensive? Have you thought how good it would feel with the road beneath your wheels and the wind whizzing past your ears? Or maybe you long to have the independence that driving a car brings.
Welcome to Ride & Drive Training (formerly Chap's Easy Rider Motorcycle School) where it's fun and easy to learn to ride a bike or drive a car!! It's a great way to experience our beautiful country especially the scenic views around Albany.
Alex Scott is an experienced rider/driver and qualified instructor who enjoys working with those that have novice or intermediate skills. Whatever your experience, he is happy to provide a friendly and fun lesson whilst ensuring you learn the safe way navigate the roads.
If you want to go for your motorcycle or car licence and you live in Albany, Mount Barker, Denmark or any surrounding areas, give Alex a call to get all the information you need.
Please browse this website for more information and feel free to contact Alex and Carole via our contact page should you want any further details. See you on the road!
Due to our business expanding into car instruction we have changed our name to:
Ride & Drive Training
(formerly Chap's Easy Rider Motorcycle School)
We will still provide excellent customer service as you are our number one priority.